Lowery- 7 Thursting & Vibrating With Huge Visible Window Oral Male Masturbator
Lowery- 7 Thursting & Vibrating With Huge Visible Window Oral Male Masturbator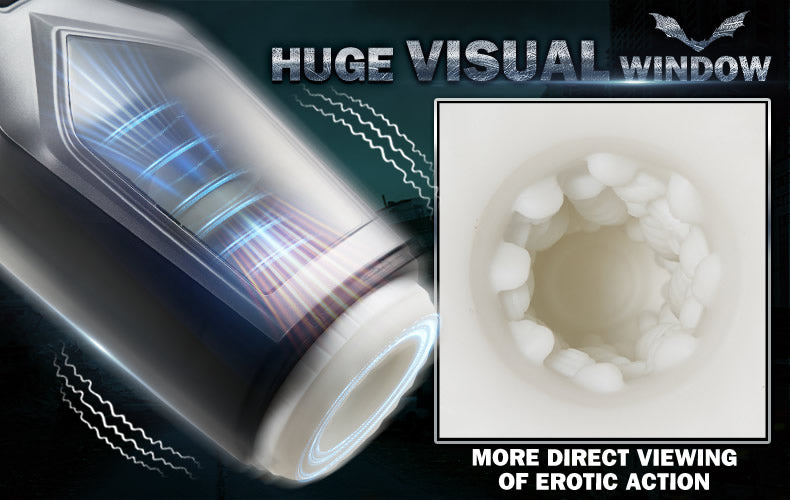 Features:

Smooth line shell, advanced texture, easy to hold.
Huge visible gray cylinder, easy to watch erotic action.
One-touch climax function makes you enjoy the ultimate pleasure no worry.
7 thursting & vibrating action will drive you up the wall, like a tongue gobbling on your cock.
Tight holes and constricted liner had my toes curling in extacy.
IPX5 waterproof, use it in the bathroom with confidence.
TPE material, skin-friendly, soft and comfortable.
 Description:

Kilmer immerse yourself in this rhythm with 7 stretching and vibrating patterns! Your cock has definitely never been inserted into such a soft and gentle liner, with a tight entrance and a very textured interior with soft stripes and bulges of polka dotted pellets that make my toes flex and stretch. Turn off the bedroom lights and enjoy the more intense stretching and vibrations bringing a penis massage late at night, the huge visual window reveals the softness under the gray shell.
The removable cover allows you to stroke the touch brought by the orgasm of the penis, and the IPX5 level waterproof also makes the cleaning steps easier. Just charge it via USB and you can keep your cock stuffed with spiral pleasure all day long.
 Specifications:

Frequency: 7
Mute:< 60 dB
Weight: 1.52 lbs
Material: ABS, TPE
Waterproof: IPX5
Insertable length: 5.71 in
Size: 10.53*3.66*3.78 in
Waterproof: IPX5